What's New?
**Check out my blog for the absolute latest updates: www.blueherondolls.blogspot.com**
or scroll down for Links to Website Updates

Return to the Home Page
January-February 2019
1. Amity, size reduced
2. Amity, size reduced

January-December, 2018 (took a break from dolls)

September-December, 2017
1. Reindeer & Santa

August, 2017
1. Dolls for Sale on Etsy
2. Bilbo revisited

January-July, 2017
1. Harvest Moon
2. Harvest Moon
3. Harvest Moon
4. Viola Ruth
5. Viola Ruth
6. Sleepytime Santa
7. Alice
8. Cecelia

August-December, 2016
1. Pumpkinhead
2. Hazel the Witch
3. Santa Had A Little Lamb
4. Sleepytime Santas
5. Patriotic Santa
6. Santy Claws

June-July, 2016
1. Emmaline dolls
2. Cecelia, ODACA Helper Doll

January-May, 2016
1. Alice

November-December, 2015
1. Sleepytime Santa

August-October, 2015
1. Emmaline, prototype doll #1
2. Emmaline, prototype doll #2
3. Emmaline, prototype doll #3
4. Emmaline, prototype doll #4
5. Emmaline, doll #5
6. Art Doll Quarterly, Winter 2015 issue

May-July, 2015
1. Three patterns converted to E-PATTERNS (Averill, Miranda, Heavenly Wings)
2. Hoffman Challenge dolls starting to come in
3. "Milena" - my Hoffman Challenge entry

January-April, 2015
1. Etsy Shop open for Art Print sales
2. New Verity doll
3. Another Verity Doll

September-December, 2014
1. Brand new pattern, "Amandine"
2. Two art pages published in Somerset Studio magazine

June-August, 2014
1. Isaac, adapted from vintage Butterick pattern
2. Suffragette Sally
3. Another Suffragette Sally
4. Vivienne, made in class by Michele Lynch

January-May, 2014
1. Livia (prototype #1)
2. Livia (prototype #2)
3. Amandine, my Hoffman Challenge doll (using my Livia pattern). See other dolls HERE
4. Doll made from Verity pattern (at 75% size), re-costumed

November-December 2013
1. Kriss Kringle, two dolls from a pattern by On the Edge Designs

September-October 2013
1. Two new E-PATTERNS (Hazel the Witch and The Candy Keeper)

July-August, 2013
1. Hoffman Challenge doll
2. Cecelia doll

January-June, 2013
1. Suffragette Sally commission
2. "Toobies" pattern for AFICC Designer Book

August-December, 2012
1. Sleepytime Santa for ER Christmas Party
2. Linsey-Woolsey Santa

May-July, 2012
1. Suffragette Sally doll (#4), pattern and pressmold now available
2. Hoffman Challenge dolls are starting to come in!
3. Cecelia doll for the ODACA Luncheon raffle

January-April, 2012
1. Amity pattern updated and converted to e-pattern
2. Video Tutorial: DIY Wings / Upcycling Project
3. Storybook Challenge Doll - group submission to Prims (Autumn 2012 issue)
4. Harvest Moon doll in spring colors


August-December, 2011
1. Averill doll
2. Old World Santa pattern now available as E-PATTERN
3. Annual Santa for ER Christmas Party/Auction
4. Snowman for my sister, from a Gail Wilson pattern/kit
5. Suffragette Sally sample doll for class
6. Another Suffragette Sally sample doll

March-July, 2011
1. Doll for Granddaughter Fiona, vintage pattern
2. Suffragette Sally, new design for class - Doll Party Gala 2012
3. "Eolande" ~ Hoffman Challenge doll

January/February, 2011
1. Annual Emergency Department Holiday Party/Auction Santa
2. Another Averill doll
3. Mirabelle - designed for AFIC's pattern book

August - December, 2010
1. Averill in purple and green
2. Averill in autumn colors

June/July, 2010
1. Serafina and Swimmer now available as E-PATTERNS
2. Hoffman Challenge doll, "Harmonie"
3. Americana Patriotic Soll Challenge: "Freddie, Waiting for the Parade"

April/May, 2010
1. Doll made using Jane DesRosier's Cloth & Clay online tutorial
2. Averill
3. Harvest Moon
4. Tombstone Angels e-pattern available
5. Cecelia in pink
6. Cecelia in yellow

January/February/March, 2010
1. Custom Averill doll
2. Doll club challenge doll
3. Doll made in Dixie Redmond's Izannah Walker Workshop (online)
4. Another Izannah Workshop doll
E-patterns now available: "Under the Harvest Moon," "Verity," "Cecelia," and "Sleepytime Santa"

October/November/December, 2009
1. Halloween Challenge doll, for Reigning Dolls & Bears Club
2. Tombstone Angel ~ wallhanging & pin doll ~ design/pattern in progress
3. Annual Santa doll for ER Christmas party/auction
4. Gift doll for retiring hospital CEO
August/September, 2009
1. Fat Quarter Swap, Santa Challenge for Cloth Doll Artistry (Ning online group)
2. Treasures of the Gypsy Challenge
3. Little Red Rides Again - Coffee with Tea online group challenge
4. Under the Harvest Moon unabridged pattern finally available!

July, 2009
1. Under the Harvest Moon, in the September issue Doll Crafter & Costuming magazine
2. Another Harvest Moon doll
3. ADO (Art Dolls Only) "4 Elements" Challenge doll
4. Hoffman Challenge doll

April / May / June, 2009
1. Under the Harvest Moon, for DC&C magazine (Sept. 2009), watch for the pattern release!
2. Penny doll challenge, pattern by Claire Pruitt
3. Cecelia doll, luncheon raffle doll
4. Presbyterian doll, from a pattern by Lucinda Durbin
5. Latest Verity doll

January / February / March, 2009
1. Tavia
2. Another "Sonia" doll
3. Challenge doll for Vintage Cloth Dollmaking Yahoo Group
4. Doll made for luncheon in Eugene, Oregon

October / November / December, 2008
1. Release of new pattern, Verity
2. Release of new (old) pattern, Snow People free on-line
3. Doll made from Averill pattern, with alternate face
4. der Belsnickle made for Christmas party & auction
5. Boudoir doll
6. Elf Sparkle

August, 2008
1. Release of new pattern, Sleepytime Santa
2. New webpage: list of publications with my dolls *HERE*

July, 2008
1. ODACA Day Luncheon Centerpiece Dolls (thumbnail links to my picturetrail site, with progress and finished photos)
2. Latest Viola Ruth
3. Verity doll (#2) for UFDC Expressions Exhibit, Bally's Las Vegas, July 27-Aug 1 2008
4. Frances, Hoffman challenge doll

June, 2008
1. Meditrina, Roman Goddess of Wine, Health and Longevity (doll club challenge)
See the other challenge dolls *HERE* in the "Meetings at Roxanne's" folder

May, 2008
All my dollmaking time is being spent working on the ODACA Day Luncheon centerpiece dolls.

Taught my "Viola Ruth" class in Moro, Oregon. See my blog and www.picturetrail.com/blueherondolls

April, 2008
The latest dolls others have made from my patterns *HERE*
1. "Verity," new doll for challenge & April 27 auction launch on eBay ("R2RD")
Check out Item # 160234687156
2. Sophia
3. Averill, with alternate face

March, 2008
1. Grace
2. Lila
3. Inner Self Challenge doll for doll club - Caressa, Maven of the Coffee House

February, 2008
1. Helen Pringle doll (link to blog)
2. New Viola Ruth doll
3. Amity doll
4. Lydia, for Interpretive Doll Challenge, Jan. 2008 issue SD&A

January, 2008
1. Viola Ruth (Alabama Baby inspired) doll class photos
2. Updated page - dolls made by others from my patterns *HERE*
3. Viola Ruth cloth doll pattern and mold available *HERE*

December, 2007
1. New Sleepytime Santa dolls (pattern to be available later in 2008)

November, 2007
1. Christmas challenge & exchange for doll club
2. Old World Santa pattern finished
3. Old World Santa sample doll

October, 2007
1. Treasures of the Gypsy - "Gypsies of the Sea" Challenge doll (see Progress Photos).
2. Three "Viola Ruth" sample dolls, Alabama Baby Repro

August/September, 2007
1. Went to Doll U.
2. Oregon State Fair August 30 to demonstrate cloth dollmaking with Patti LaValley.
3. Gone September 7-16 for Cycle Oregon.

June/July, 2007
1. Heavenly Wings pins/ornies
2. Old World Santa (prototype 2, pattern pending)
3. Hoffman doll
4. More Hoffman dolls!

April/May, 2007
1. Challenge: Reproduction Alabama Baby, prototype
2. Second Alabama Baby
3. Doll Club Storybook Challenge - Hillsboro library display

January/February/March, 2007
1. Old World Santa, new design
2. Doll for "2-D to 3-D" challenge (Doll Street Dreamers)
3. Simple wall angel, new design

Autumn, 2006
1. Francine the Two-Faced Doll, McCall pattern 1575, ca. 1940
2. Muse doll made in Camp Doll U class with Sherry Goshon & Jean Bernard
3. Averill sample doll for class
4. Averill sample doll for class
5. Averill sample doll for class
6. "Angel for the New Year" challenge

August, 2006
1. Red-headed Cecelia, commissioned.
2. Another red-headed Cecelia, commissioned.
3. Averill with cloth face
4. Averill with cloth covered polymer clay face
5. Ethnic Cecelia
6. Hoffman Challenge entries are arriving!
7. Two new dolls for the club's Fabric Kit Challenge

July, 2006
A trip to Dallas, for the final step in becoming a member of ODACA.
1. Hoffman Challenge Doll
2. New Averill doll
3. New Tavia doll

May, 2006
I know it's been quite some time since I updated the website,
but I'm in TRAINING.
In September, I'll be a Cycle Oregon participant -
riding roughly 500 miles in a week.
Needless to say, that takes some preparation.
Here's some cycling photos:
www.picturetrail.com/blueheron61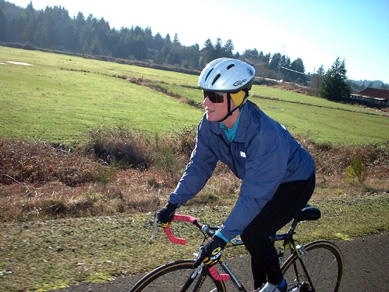 January/February, 2006
1. Pin doll designed for www.dollmakersjourney.com
2. Newly released pattern "The Candy Keeper" with five variations

December, 2005
. 1. Patti Culea's collage doll challenge for SD&A Magazine
2. Santa for annual ER Christmas Party / Auction
3. Commissioned doll - Bob Dylan
4. Mold felt face doll from doll club workshop
5. Simple fabric journal for Grandparents

November, 2005
1. Commissioned doll, African-American Averill
2. Commissioned doll, African-American "Robin," companion to Averill
3. Commissioned doll, "Reading Man"

October, 2005
Back from Camp Doll U:
1. "Joy of Creating" challenge doll (photo pending)
2. Student chairs from Jean Bernard's Apoxie Sculpt class
Other Projects:
3. "Tribal Dance," 2005 Treasures of the Gypsy challenge doll
4. Updated doll club photos
5. RD&B doll club monthly kit challenge

August/September, 2005
1. Godmother Doll
2. Averill doll, in very bright colors
3. Averill doll, in greens and purples
4. Tavia, with Tibetan lambswool hair
5. See the Hoffman Dolls HERE
6. See Other's dolls from my patterns HERE
7. Miranda Pin Dolls
8. Doll club challenge - spool dolls
9. Cecelia doll
10. Heavenly Wings, new pin doll / ornament pattern

July, 2005
1. Doll Stand Wizards - Doll club assignment
2. Hoffman Challenge
3. Doll club assignment
4. New doll and patterns, "Tavia"
5. New doll club photos here

May, 2005
1. "Robin," made from Averill pattern & pressmold
2. JitterBag, pattern pending

Copyright Deanna Hogan, Blue Heron Crafts