Dolls made by Others
from my patterns

"A Girl with a Watering Can" by Sara Rawlins
Made from Viola Ruth pattern and mold
Sara is a member of The Stuffits of South Carolina. This Renoir-inspired doll was made for a club challenge (make a doll from a famous painting).
She entered her doll in the National Society Daughters of the American Revolution, American Heritage Contest and won 2nd place, 2014.


Under the Harvest Moon
By Donna Schroeder




Old World Santa by Romona King




Dolls (above and right) made by Anna orowska
From my "Under the Harvest Moon" pattern

http://www.etsy.com/shop/WhereJoyGrows

The doll on the right was made with slight alterations in size and the blouse:
www.etsy.com/listing/104062021/a-beautiful-cloth-doll-dressed-in-stormy

"Eleanor"
Made by Claudette Hunte, Rose Cottage dolls
from "Under the Harvest Moon" pattern

Made by Joyce Weaver
from "Under the Harvest Moon"
Harvest Moon" pattern

Joyce's doll took FIRST PLACE at the Burnet County, Texas Fair

"Wynter Skye"
Made by Kate Erbach

From "Under the Harvest Moon" pattern

Verity
by Pamela

Verity
by Pamela

"Verity" Dolls

Made by members of the Dollirious! Doll Club
Arlington, Washington

Cecelia
by Martha Checkett

Verity
by Pamela

Verity
by Sue McGorty


Sue says, "...I decided to give her more of an age-appropriate look with a chest, some darts on her dress to make it more fitted, and a more grown-up hairdo. I antiqued her body and clothing, and applied a crackle glaze to her face and arms (great tip about the crackle on your pattern, I love the effect). Her hair is dark auburn wool."

Sleepytime Santas
by Maryanne Kaahanui

Old World Santa
by Ellen Vorster
Doll by JCEagle
Doll made using the Averill pattern with simplified body design for durability. The doll is intended to ride a kite climber, up the kite-line to a release point where he parachutes back to the ground. He hasn't ridden the line yet. His parachute is in his backpack.




Viola Ruth
by Charie Wilson
Sleepytime Santa
Pattern tested by Karen Mallory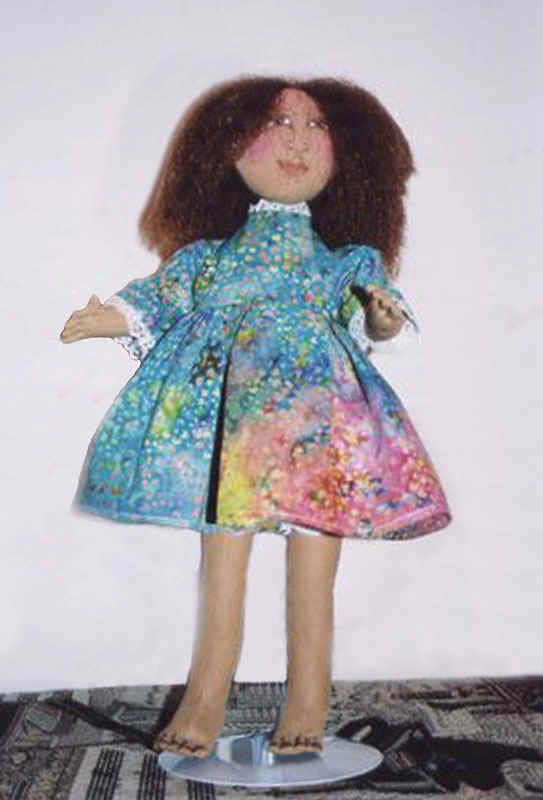 Cecelia
by Doressa Carlton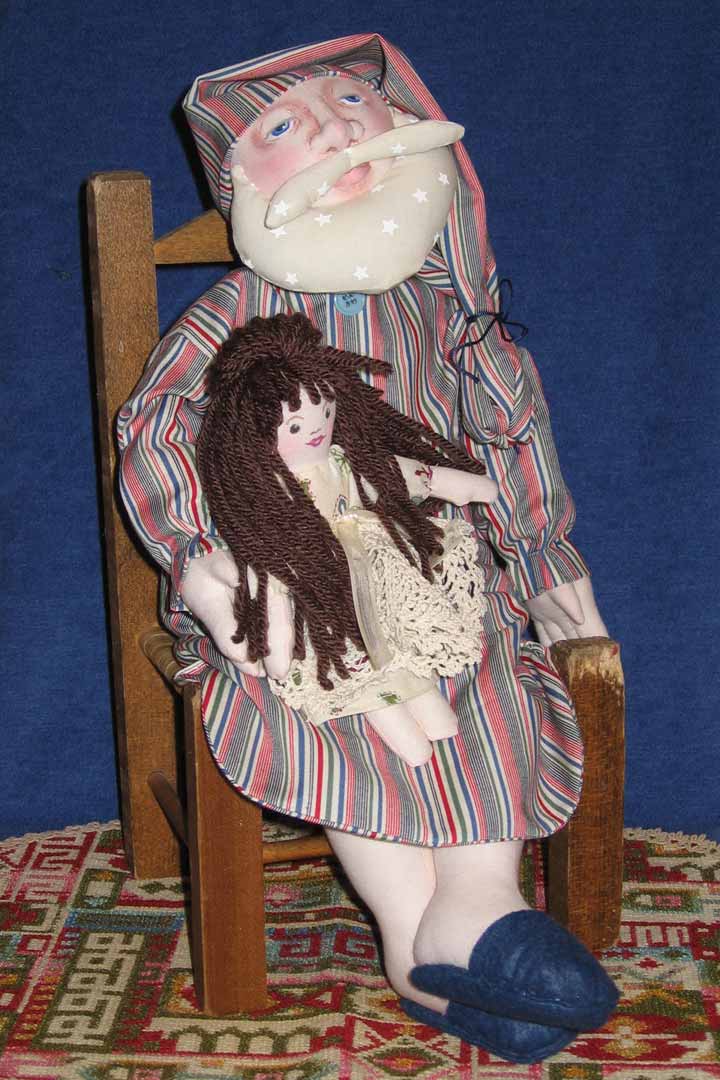 Sleepytime Santa
Pattern tested by Kate Erbach


Sarah Jane
by Kate Erbach, from Amity pattern

Sarah Jane in party dress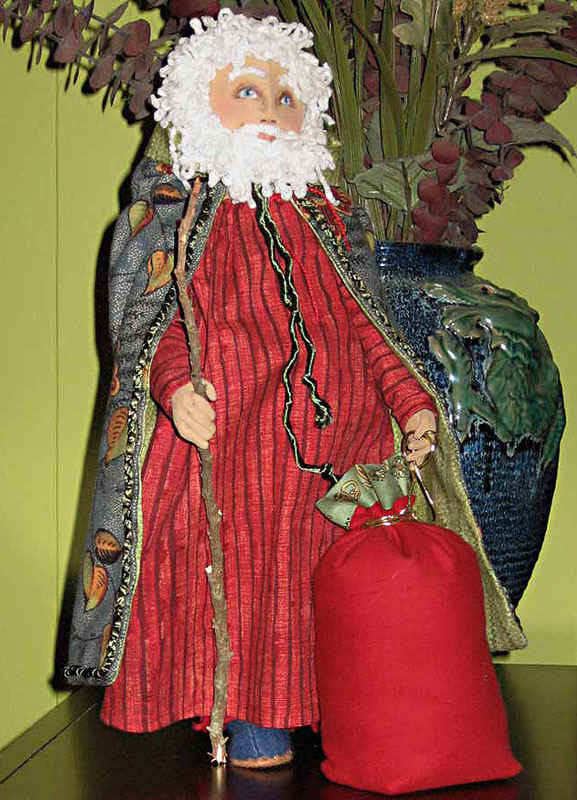 Old World Santa
by Kate Erbach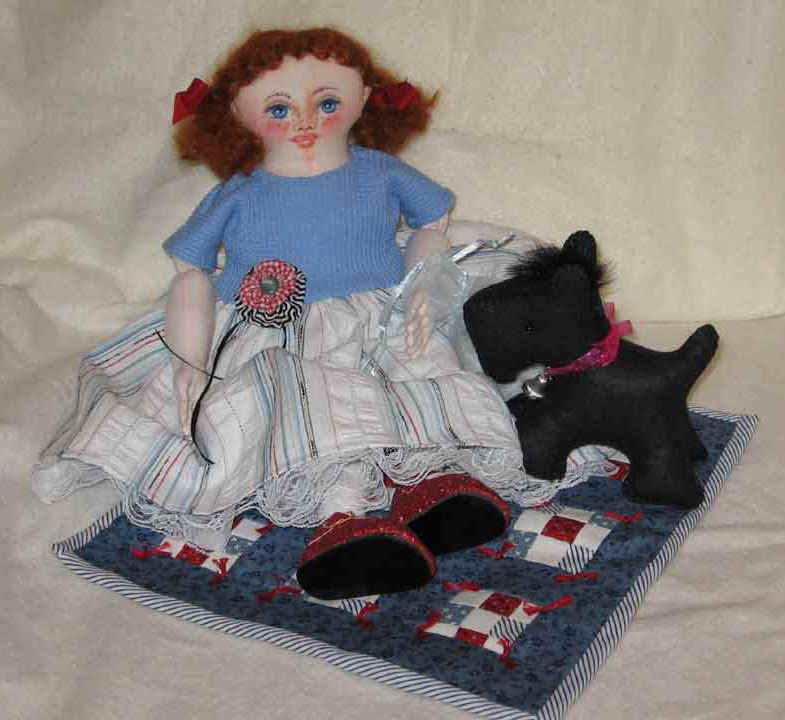 Gracie
Made by Kate Erbach, from my "Godmother" pattern
for a Vintage Cloth Dollmaking Yahoo group challenge.
Click HERE to see Kate's Picturetrail photos (VCD Trunk Doll Challenge)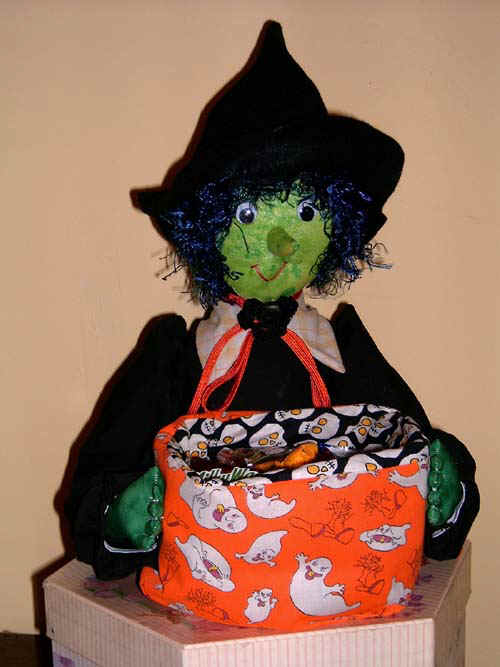 Candy Keeper Witch by Joyce Weaver

Cecelia, with inset eyes!
by Brenda Oberson

Chloe taking her pet dragonfly for a walk
by Kate Erbach
Made from Tavia pattern

Colleen going to market, by Kate Erbach
Made from Tavia pattern


"Averill" with cloth face
by Marti Kinkor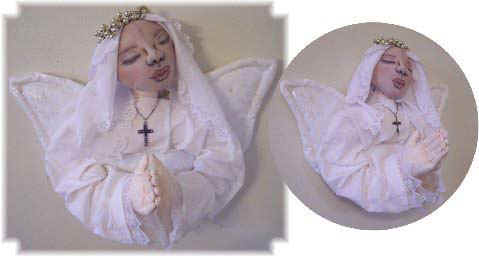 "Holly-Lou" by Shirley Walker
Shirley made an adjustment on her head back to it attach Judi Ward style,
and added Mica flakes to the wingtips.

"Woggi" by Kate Erbach
From Averill pattern, cloth face

"Cecilia" by Angie Miller
Photo taken at Camp Doll U, 2005
Averill with cloth face
by Cathy Judd
| | |
| --- | --- |
| | Cathy made a tree stump prop for Averill to sit on, with a mushroom for her to set her hand on. The base is decorated with moss and clay flowers, colored with Pearl Ex pigments before baking. |
Averill with clay face
by Kate Erbach

"Melody"
by Patti-Ann Stanley from Fiona pattern
"Cecelia"
by Donna Robinson from Cecelia pattern
enlarged 250%

Same doll, after lowering mouth
and adding ruffle to dress.
"Carolyn's Angel"
from Holly-Lou pattern

Made by Jeanne Gritton (2003) as an "Opportunity" doll at the Anacortes luncheon. Jeanne used Christine Shively's "face techniques" for her face. She was made in memory of a Border Babes founding member who passed away in September of cancer. Jeanne gave her fushsia hair because Carolyn's sister (upon finding out that chemotherapy was inevitable) dyed Carolyn's hair that color "just for fun". I think Carolyn would like "her" angel.
Copyright Deanna Hogan, Blue Heron Crafts